Who we are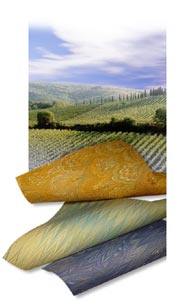 Marbled Arts comes from the passion for traditional watercolor marbling. By following the ancient tradition, paper marbling is a process that requires a lot of patience and care so that the paper can be colored in many different ways and its uses are endless.
The old technique is still alive and foster an infinite variety of patterns and color combinations for the marbled and combed paper: book bindings, picture framing etc. This paper can be used to cover just about anything. Our local production consists of a large variety of objects entirely made and colored internally; marbled paper - size 50 by 70 cm - can be produced by placing a special order.
For many years here at Marble Arts we have been in training decorating the paper according to the ancient tradition. This is the second generation of our incredible family business: each member of the family has allowed this art to remain alive and in turn has enriched it with his or her personal skill, taste and passion, like living somewhere that brings you back centuries...
Italiano

Catalogue
Shop Online
Buy directly from Marbled Arts, visit our Online Shop!

Are you looking for Marbled Arts? Please visit my Retailers & Partners
Resell us
Resell
Marbled Arts
»
Contact us